L

ord Byron was on to something when he waxed lyrical about the Greek islands.
But with more than 200 to choose from, which ones are the very best Greek islands? Here regular isle-hopper Rachel Howard reveals the ones to get in a speedboat for in 2020.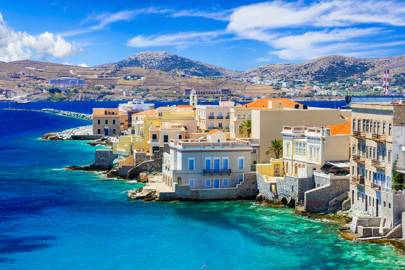 Best Greek island for: Culture and off-season cachet
On Syros, capital of the Cyclades, you won't find sugar-cube villages and whitewashed lanes. The colourful 19th-century city of Ermoupoli is built on twin peaks – one Orthodox, the other Catholic, the heritage of a long Venetian occupation. There's still a strong Italian flavour in Ermoupoli's marble piazzas, princely mansions, and miniature replica of La Scala, the showpiece of a year-round cultural scene. Syros hosts festivals of animation, dance, digital art, film, classical music, jazz and rembetiko, the Greek blues popularised by local musician Markos Vamvakaris. A few rembetiko joints have survived in the upper town, Ano Syra.
Once Greece's ship-building centre, Syros still has a boatyard at Neorio. But the most splendid legacy of the shipping industry are the manor houses in Vaporia and Poseidonia. The beaches are slightly less splendid — with the exception of Delfini, Varvarousa, and Aetos in the wild north. But fabulous seaside tavernas abound: Ambela for fresh fish; CIliovassilemar on Galissas beach for samphire and sea-urchin salad and rockfish soup; Allou Yallou in the pretty seaside village of Kini for lobster with orzo. In Ermoupoli, the finest places to eat and drink are along Androu Street: Ousyra (ousyra.com), where the chef plates up Greek-ified pasta and beautifully balanced salads, and Django Gelato, where the smoked-hazelnut ice cream and fig sorbet sell out in 30 minutes flat. Perhaps the prettiest restaurant of all is Mazi) a vine-covered courtyard festooned with bougainvillaea. Before you leave, stock up on loukoumi (rose-tinted Turkish delight) and San Michalis cheese from Prekas delicatessen, and visit Zylo for hand-made wooden sunglasses.
Where to stay on Syros: On the waterfront in Vaporia, Xenon Apollonos has just three bedrooms with stencilled ceilings, period furniture, and the sea framed in floor-to-ceiling windows. Hotel Ploes, a palazzo on the rocks, is the next best thing. Five Star Greece has a glorious selection of historic mansions, estates and smart villas to choose from.
2. SIFNOS

Best for: Big, fat Greek feasts

Sifnos owes its foodie reputation to its most famous descendant, Nicholas Tselementes, who wrote the first Greek cookbook in 1910. Forget souvlaki and moussaka: here, chickpea croquettes and stewed capers are taverna staples. The island is peppered with potteries that produce the earthenware casseroles used for revitháda (baked chickpeas) and mastello (lamb with red wine and dill). Traditional dishes are slow-roasted in a wood-fired oven at To Meraki tou Manoli, a local institution on sheltered Vathy bay. (While you're there, invest in some timeless tableware from Atsonios pottery, in business since 1870.) In postcard-pretty Artemonas, all roads lead to Theodorou, purveyors of nougat wafers and almond sweets since 1933. You can eat in your bikini at Omega 3, where locally foraged and fished ingredients are given an exotic twist: baby-calamari tempura, smoked eel in chilled melon soup with wasabi, and chickpea sorbet with wild apricot jam and pine nuts. In 2020, Omega 3's energetic head chef Giorgos Samoilis opened Cantina, an equally experimental taverna in Seralia, a pretty little bay below the beautiful medieval village of Kastro. Lobsters are plucked straight from the sea at Heronissos, then served with spaghetti on the jetty. It's just the right balance of low-key luxury and unspoiled authenticity. Rather like Sifnos itself.

Where to stay in Sifnos: With its cliff-top infinity pool and soft-focus sunsets, Verina Astra is effortlessly sexy. Verina Suites on Platis Gialos beach is more family-friendly. Kamaroti is an effortless crowd-pleaser with its green lap pool shaded by olive trees, mid-century modern touches, and deliciously unpretentious Greco-Spanish menu. Sifnos House, a boxy little number overlooking the low-key port of Kamares, is steps from a sandy beach and a charming strip of seaside tavernas.

Read our guide to Sifnos: the most delicious Greek island

Sifnos: the most delicious Greek island

GREECE

Sifnos: the most delicious Greek island

3. HYDRA

Best Greek island for: a long weekend with the art crowd

You know when Dakis Joannou, Greece's foremost art collector, is on Hydra. His yacht, Guilty, is painted in gaudy 'camouflage' by Jeff Koons. Every summer, Joannou invites big hitters such as Matthew Barney and David Shrigley to create site-specific installations in the Greek island's old slaughterhouse. Even the school is commandeered for exhibitions in the summer holidays. Car-free and protected by a preservation order, Hydra has always been the artists' muse of the Greek Islands. Leonard Cohen set the scene in the 60s; now Brice Marden, Sadie Coles and Juergen Teller have homes here. Athenian artists take up residence at the School of Fine Arts, one of the vast, grey, stone mansions overlooking the horseshoe harbour. Musicians of all stripes rehearse and record at the (Old Carpet Factory), an 18th-century residence whose double-height ceilings and underground cistern have incredible acoustics.

Less than two hours from Athens, Hydra fills up with chic Greeks at weekends. . They come to disconnect and slow down, but also to see and be seen. Wily cats and weary donkeys patrol the back alleys, but all the action happens along the waterfront. Oh look! There's Olivia Palermo at The Pirate Bar and Chloë Sevigny shaking her tail feather at Hydronetta beach bar. Who cares if there are barely any beaches? You can always find a slab of sun-baked rock from which to leap rock from which to dive into the clearest water in the world.

Where to stay in Hydra: Built in 1796, nine-room Orloff Boutique Hotel oozes old-world charm. If a pool is a priority, check into atmospheric Bratsera. To get in with the art crowd, stay at a leading local Artist's Villa (like the one pictured), available through Hipaway. Or bring a big gang and take over one of the fabulous old captain's houses such as Hydra House, available through Scott Williams.

See our full guide to Hydra, Greece

Hydra: the laid-back Greek island

ISLANDS

Hydra: the laid-back Greek island

4. MILOS

Best Greek island for: A photogenic and dramatic coastline

Everyone knows the Venus de Milo (which has stood in the Louvre since the 19th century). Until recently, very few had heard of Milos, the volcanic island where Aphrodite's graceful likeness was discovered. Those in the know jealously guard their treasured island, and especially its 70 (or more) beaches — surely the most diverse and dramatic coastline of all the Greek Islands.

Little by little, though, Milos is being discovered. Instagram is saturated with no-filter shots of the undulating white cliffs at Sarakiniko, the bottle-green swimming hole at Papafragas, and colourful, rickety syrmata, tiny boat houses wedged between rock and sea. (You'll find the best photo opportunities at Klima and Mandrakia). This painterly landscape was shaped by the minerals that have long been a source of wealth – obsidian, alum, barite and sulphur, which still bubbles up in the island's many hot springs. As the 11,000-year-old mining industry is gradually giving way to tourism, several chic hotels have made an appearance. Go now, before the trickle of visitors turns into a tide.

Where to stay on Milos: With a wooden deck and sunbeds shaded by billowing sails, Salt is like staying on a boat floating above the bay of Pollonia. The four simple white suites at family-run Captain Zeppos are right on the sea and the home-made breakfast is superb. For a serene retreat, check into Skinopi Lodge, three discreet villas on a hillside estate facing the horizon. At the end of a rough dirt road, the ultra-minimalist Milos Cove is even more remote – a stylish hideaway for kicking back and doing absolutely nothing.

Read more about Milos, Greece.

Milos, Greece: secret Greek island of the summer

ISLANDS

Milos, Greece: secret Greek island of the summer

5. SERIFOS

Best Greek island for: Naturists and purists

The sleeper hit of the Cyclades, Serifos is the summer retreat of interior designers and architects who prefer to keep the sandy beaches to themselves. (One French home-owner is so protective of her hideaway that she tells all her friends she summers on nearby Sifnos.) Even in August, you'll find coves where you can skinny dip in blissful solitude. That's because the best beaches (Kalo Ambeli, Vagia, Skala) are only accessible via bone-rattling dirt roads or donkey tracks. Better still, rent a motor boat from the laidback harbour, Livada. Make sure to moor outside Anna's taverna on Sikamia beach for freshly caught fish and garden-grown salads.

In the cascading hilltop Hora, there's barely any nightlife, no smart boutiques or fancy hotels. But who cares when you can kick back with fennel pie and raki at Stou Stratou, pick up Natassa Kalogeropoulou's minimalist ceramics at Kerameio, and listen to Greek folk in the open-air amphitheatre? And all less than three hours from Athens.

Where to stay on Serifos: Hipaway Villas has a characterful collection of waterfront villas poised above private coves. Cocomat Eco Residences is a mini-resort repurposed from old mining cottages, right on sandy Vagia beach. Closer to the action, Chill & Co is a sexy nine-room newcomer on the harbourfront with a great breakfast and cocktail bar. In Hora, The Captain's House is a beautifully restored 19th-century mansion run by the equally elegant Manos and Emmy.

6. AMORGOS

Best Greek island for: Deep-blue seas and wide-open spaces

It's not easy to get to Amorgos. In high winds, the fast ferries stay grounded and the slow boat takes upwards of eight hours from Athens. When you disembark at Katapola, a sleepy harbour lined with great little fish tavernas (our favourites are Prekas and To Mouragio), a sign announces: 'Welcome to Amorgos. Nobody will find you here.'

That's just the point. This craggy Cycladic island has always attracted loners, hikers, divers and pilgrims, who shuffle up the cliff face to the Monastery of Hozoviotissa, a sliver of white dangling 300 metres above the sea. The water here is a million shades of blue and so startlingly clear you can see every sea urchin lurking on the rocky shore. Even the sage-scented hiking trails are called Blue Paths, because the sea and sky are visible in all directions.

With a population of under 2,000, the locals are outnumbered by shaggy goats that blend in perfectly with the burnished landscape and hippie vibe. But you don't have to be a recluse to fall for Amorgos. There are plenty of all-day, late-night bars where Amorgos groupies meet, summer after summer: Jazzmin, in Hora, for backgammon and cocktails; Pergalidi in Langada for herbal infusions and jazzy tunes; Seladi in Tholaria, with giddying views and a telescope for stargazing.

Where to stay on Amorgos: There are very few hotels on Amorgos, beyond basic rooms to let. Vorina Ktismata is the exception, with five smart apartments looking out across Hora's white-washed rooftops. Amorgos Holiday Homes has two cute cottages for rent.

Read more about Amorgos, Greece.

Amorgos: the fairest of the Greek Islands

ISLANDS

Amorgos: the fairest of the Greek Islands

7. PAXOS

Best for: The perfect balance of seclusion and sophistication

One of the tiniest Ionian islands, Paxos packs a big punch. Not for its five-star hotels (there are hardly any) or its sandy beaches (practically none), but for its electric blue sea and three dinky harbour towns, each one so pretty it's impossible to pick a favourite. In laid-back Loggos, on the northeast coast, star-spangled evenings are spent on the waterfront terrace of Taxidi bar, where the owner, Spiros, often jams with local musicians. You could while away days in the waterfront cafés of Lakka, watching lissom sailors hop on and off their yachts. Protected from the wind but with a lively social scene, the main port of Gaios is characterised by Venetian architecture and a high quota of stylish Italians, who own pale stone villas hidden in the wooded interior or on the crest of the limestone cliffs along the western shoreline. For the many British Paxos aficionados, all roads lead to Ben's Bar, a happy-go-lucky hangout on Monodendri beach, where you can laze under the olive trees with French toast and Piña Coladas. Make sure to rent a motor boat to putter along the coast to pebble coves such as Marmari and Kipiadi, or across to Antipaxos, an even smaller island that's a hit with the yachting set. Paths through vineyards and orchards trickle down to bays with sea so clear it looks retouched.

Where to Stay in Paxos: There are hardly any smart hotels on Paxos, but dozens of very desirable villas to choose from. Scott Williams specialises in scene-stealers designed for big group getaways, which often come with their own boat and private beach. Alternatively, you can charter their teak ketch, Circe, for day trips or overnight adventures. For intimate hideaways where nobody will ever find you, check out The Thinking Traveller's portfolio. Their well-connected reps can arrange restaurant reservations, private chefs and picnics on secret beaches. Five Star Greece also has some exceptional villas on Paxos, including Paxos PTR, a huge estate with 360-degree views and wonderfully idiosyncratic interiors.

8. SANTORINI

Best for: Honeymooners and first-timers

Cooing American and Chinese honeymooners line up to take selfies as the sun sinks behind Santorini's caldera, the flooded volcanic crater. That view may be a romantic cliché, but it still takes your breath away. A volcanic explosion blew out Santorini's heart 3,500 years ago, leaving black-sand beaches, vertiginous cliffs in psychedelic hues, and swirling rumours about Atlantis in its wake. The eruption also preserved the ancient city of Akrotiri under layers of ash, and created fertile ground for exceptional Assyrtiko grapes and Vinsanto wines. (Sample them at Sigalas and Vassaltis wineries, paired with delicate dishes that let the grapes sing.)

Apart from a boat trip to the smouldering crater of Nea Kameni and hot springs at Palia Kameni, there's not much to do but gaze at the mesmerising views from your suite, dangling on the edge of the caldera. The best hotels in Santorini are concentrated in Oia and Imerovigli, but the inland village of Pyrgos is up-and-coming. Go for a twilight Bellini at Franco's or supper at Botargo, with views that will leave you light-headed. Emborio is a smaller and even prettier village, with a smattering of old-school coffee shops and Airbnbs. For a glimpse of Santorini before the onslaught of cruise ships and Instagrammers, explore the quieter south (but keep your discoveries to yourself).

Where to stay in Santorini: Trendier pretenders come and go, but Perivolas is still the most stylish and peaceful place to stay. If you have cash to splash, and can't stand the crowds, take over Perivolas Hideaway, a waterfront villa on Santorini's undiscovered offshoot, Thirassia, or Erosantorini,a stunning clifftop estate with a tiered pool plunging 1,000 feet to the sea. The collection of suites at The Vasilicos, the former summer house of a larger-than-life art collector, still feels very much like home, due to charming staff and effortlessly classy interiors. Near the gravelly black shores of Perivolos beach, Istoria makes up for the absence of caldera views with a slick slate pool, superb restaurant and huge rooms.

The best hotels in Santorini

PLACES TO STAY

The best hotels in Santorini

9. CEPHALONIA / KEFALONIA

Best Greek island for: Laidback family holidays

Casting Penélope Cruz as a Greek peasant is improbable. Shooting a World War II film on an island flattened by an earthquake in 1953 sounds even crazier. And yet Captain Corelli's Mandolin put under-the-radar Kefalonia (Cephalonia) in the spotlight in 2001. The dramatic scenery still lives up to the hype: milky-white Myrtos beach, the island's pin-up; pine-fringed Horgota beach; and the giddying heights of Mount Ainos, a national park where deer and wild horses roam. Outdoor Kefalonia organises four-wheel-drive safaris, if you can't face the hairpin bends. Surprisingly, the two prettiest seaside villages – Assos and Fiskardo – didn't make the cut. But the yachting set has discovered their photogenic charm. Everyone from John Galliano to Jon Bon Jovi has jumped ashore to taste the seafood pasta at Tassia in Fiskardo, washed down with local Robola and Muscat wines. (We recommend the organic muscat from the 19th century Haritatos Estate in Lixouri, also an enchanting setting for wine tasting.) The rocky coastline around Fiskardo is deliciously pristine: go snorkelling at tiny Dafnoudi or Emblissi, flanked by slabs of limestone that turn the water electric blue.

Where to stay in Cephalonia: i-escape has some lovely hideaways on Cephalonia, including My Little Place on the Hill. Overlooking Fiskardo, Emelisse is a family-friendly hotel with a great Elemis spa.

10. CORFU

Best of the Greek islands for: character and lush landscapes

Corfu is the It Girl of the Ionian islands. The cosmopolitan capital is a charming clash of Venetian, British and French colonial influences. Evenings kick off with cocktails on the Liston (a colonnade modelled on Paris's rue de Rivoli), followed by dinner at Salto, an unpretentious wine bar and bistro on the edge of the Old Town.

With its pastel villages, rolling olive groves and grand manor houses, the rest of the island recalls Tuscany – but with some of the best beaches in Europe. The smart set stay on Corfu's north-east coast (nicknamed Kensington-on-Sea) where the Rothschilds like to unwind. It's wall-to-wall Sloanes and speedboats at Agni, a tiny fishing village with three rival tavernas (Toula's is the best). From here, you can rent a boat and putter to your own cove: perhaps Nissaki, Agios Stefanos or Kerasia. These idyllic bays still resemble the 'delectable landscape' that Lawrence Durrell fell for in the 1930s — now back in vogue thanks to the ITV series, The Durrells. Or venture inland to Ambelonas, an enchanting winery, restaurant and cooking school that specialises in unusual local dishes, such as roast pork with quince and crème brûlée with Corfiot kumquats. Steer clear of the south, especially Kavos. Unless you happen to like wet T-shirt contests.

Where to stay in Corfu: New in 2020, Ultima Corfu is a seven-bedroom villa with five-star services, including an infinity pool, spa, cinema and access to a 78ft yacht. Rou Estate is much more low-key: a hilltop hamlet transformed into a peaceful retreat with an excellent spa. CV Villas has cornered the market in covetable villas on the north-east coast of Corfu. If you'd rather go all-inclusive, check into the smart Ikos Dassia, a favourite haunt of The Durrells cast and crew. Guest perks include a Mini Cooper for cruising around the island.

11. ITHACA

Best Greek island for: A mythical retreat for lovers and loners

Despite its legendary stature, the homeland of Homer's hero, Odysseus, remains surprisingly under the radar. Ithaca's turquoise and emerald coves are popular with the sailing set, but few visitors venture into the forested hills. So you might be the only person exploring the eighth-century BC ruins of Odysseus' palace, or making the heady trek to the church of Anogi, covered in Byzantine frescoes (ask for the key at the village coffee shop, where the owner will cook you a set menu of whatever is available – maybe a tomato salad, some local cheese and braised goat – straight from her garden or neighbours' fields).

From Anogi, it's an exhilarating two-hire hike down to Kioni, a miniature port where you'll find Spavento, the perfect pier-side café-bar. Go any time of day or night for ice-cream sundaes, excellent cocktails, and a soundtrack to make your heart sing. The waterside tavernas at the drowsy fishing port of Frikes are unfailingly delightful, especially Ageri. The deep, sheltered harbour town of Vathy is barely livelier, but the mood can be deliciously mischievous at Mylos bar. Beaches are mostly small and pebbly, but the sea is as clear and refreshing as gin. Authentic, unspoiled and infuriatingly (or gratifyingly) hard to reach, rugged little Ithaca is somewhere you can still disappear.

Where to stay on Ithaca: Five Star Greece is run by a native of Ithaca, so the company has access to all the best villas, including The Chapel, a secluded cottage for two with access to a private beach and wooden boat. Levendis Estate an eco-retreat that's especially great for families: kids can pick their own organic fruit, feed the sheep, and scamper through the woods to a hidden infinity pool.

12. FOLEGANDROS

Best Greek island for: Authenticity with a bohemian buzz

The village square should be your first port of call on any Greek island: settle into your favourite café, pick up local gossip, and adjust to the languid pace of life. On Folegandros, this presents a challenge: the cliff-hanger capital, Hora, has not one but three squares, each brimming with a jumble of cafés, tavernas and dinky raki bars. We recommend (Pounta), where the Danish owner makes (and sells) the lopsided cups and bowls in which your coffee and Greek yogurt are served. From Hora, zigzagging steps lead up, up and away to the only real landmark, Panagia church; make the pilgrimage at sunrise (perhaps after an all-nighter at dimunitive Astarti bar).

Folegandros – which means 'iron hard' in ancient Greek – is as barren as its name suggests. Fruit trees are protected from fierce winds by rings of stones. You won't find sandy beaches lined with sunbeds; only limpid, pebbly coves, such as Katergo, Ambeli and Livadaki. Set in the rocks above Agios Nikolaos bay, Papalagi serves big fat prawns and whole grilled octopus on a wooden deck aligned with the horizon. Water taxis service some beaches in high season; otherwise you'll have to scramble down rocky footpaths to cool off. On your way home, stop at Mimis or Synantisi in Ano Meria for the island speciality of matsata (goat or rabbit stew with hand-made pasta).

Where to stay on Folegandros: Midway between the port and town, Anemi has a fresh, witty design and is ideal for families and fitness freaks, with a yoga studio in the vineyard. Simple and spare, Anemomilos is all about the staggering views. The helpful Patelis family and cliff-edge bar are among the hotel's unpretentious charms. Blue Sand hotel hovers on the hillside above Agali beach; space and privacy are a little limited, but those views and steps leading straight to the water make up for it.

13. MYKONOS

Best of the Greek islands for: Decadent parties and five-star hotels

Mykonos had gay clubs and sunrise parties long before rave culture was even invented. Its bohemian allure hasn't faded since the 1960s, although the once naked beaches now have nail bars, personal trainers and house music pumping out all hours. The influx of supermodels and superyachts has inspired hot new hotels and restaurants. The hippest place to show off your abs is Scorpios, a louche beach bar that puts Ibiza's finest in the shade (book a cabana to watch the sunset). After hours, it's always Astra, where you might find Keith Richards chatting up Karolina Kurkova. The gay crowd has dwindled, but drag queens and oiled bodybuilders make a splash at Jackie O, overlooking Super Paradise bay.

If the glitzy excess gets too much, escape to Fokos taverna for superfood salads and lamb chops, or Kiki's, an off-grid grill-shack overlooking Agios Sostis bay, where even Naomi Campbell has to queue for a table. Or cruise over to the tiny island of Delos, an archaeological sanctuary that once thronged with 30,000 sun worshippers (the temple is dedicated to Apollo, the Greek god of light).

Where to stay in Mykonos: If you're here to party, check into Soho Roc House – guests have priority access to Scorpios and the poolside scene is smoking. Pale and interesting, Bill & Coo Coast on Agios Ioannis beach has dusky views across to Delos. Santa Marina resort tumbles down a private peninsula with a full-blown spa, a secret sandy beach, and a Riva to whisk you off to Nammos or Scorpios, if you can peel yourself off your canopied sunbed. If you prefer to be in the thick of it, try Branco on Platis Gialos beach, or The Belvedere, the gold standard in Hora. For something more subdued, hide away at The Wild, whose main attraction is a glittering private cove.

See five of the best new hotels in Mykonos

The 5 best hotels in Mykonos

PLACES TO STAY

The 5 best hotels in Mykonos

14. TINOS

Best for: Traditional villages and knockout tavernas

Tinos has more than 50 villages, each vying to be fairest of them all. In Pyrgos, famous for its marble craftsmen, sculpted birds and flowers decorate every doorway. In Volax, basket weavers squat outside cottages carved from giant boulders, seemingly flung from the heavens by Zeus in a fit of pique. There's even a village called 'love', Agapi, where you can tuck into wild-fennel fritters at the only taverna. Tinos takes its food culture seriously: there are artichoke, caper and honey festivals. Marathia launched the island's farm- (or fishing-boat-) to-table scene, elevating local ingredients into complex modern dishes. For a perfect meal in perfect surroundings, go for cuttlefish risotto and octopus caramelised in grape must at Thalassaki, served on the jetty in Isternia bay, then watch dusk bleed into the horizon from Exomeria bar.

Tinos is only 15 minutes from Mykonos, so it's a wonder it isn't overrun with tourists. The harbour is swarmed on 15 August, however, when Orthodox pilgrims flock here to kiss the icons at Panagia Evangelistria monastery, one of the holiest sites in Greece. Otherwise, the island is miraculously untouched. Solitary chapels and whimsical dovecotes stud thyme-scented hills, dropping to sandy bays whipped by the meltemi wind. There's a nascent surfer scene on Kolibithra bay, where a VW camper van has been converted into a cute beach bar.

Where to stay in Tinos: Up in the hills, Xinara House is a hidden-away guest-house in a former bishop's residence, snazzily restored with a magpie mix of traditional mosaics, contemporary art, antique crockery and designer furniture. Hipaway has villas with real personality, including a clutch of wonderful stone cottages on Lichnaftia beach. Just remote enough, The Detailor is a thoughtful modern villa with mellow vibes and views for miles.

15. CRETE

Best for: Antiquities, active adventures and sunshine all year round

Greece's largest island, the birthplace of Zeus, Crete has ancient ruins, snow-capped peaks and beaches galore. Sunshine is pretty much guaranteed year round, but spring is especially lovely for rambling and sightseeing. The Minoan palace of Knossos is glorious, despite the steady stream of coach parties (go early: it opens at 8am); but there are stunning ancient sites, such as Aptera and Malia, peppered all over the island. The 16km-long Samariá Gorge also teems with pilgrims, but there are 50 more canyons to explore, often with only the elusive kri-kri (wild goats) for company. One of the most staggeringly beautiful hikes is through the Aradena Gorge in the wild and rugged Sfakia region, ending at Marmara, a translucent cove on the Libyan Sea, for a cooling dip and lunch at one of Crete's finest tavernas, Dialiskari.

With the exception of Elounda – a pocket of bling popular with oligarchs – the north-east coast is scarred by over-development. Head west to the Amari valley or Apokoronas for authentic villages surrounded by olive and orange groves. Or go south, where you'll find the best beaches in Crete – try Ligres, Sougia, or Kedrodassos. Alternatively, take a back-to-nature break at Milia, a 17th-century hamlet powered entirely by solar energy. Everything on the organic menu is grown, caught or reared locally. In fact, it's almost impossible not to eat well on Crete, which produces superb cheese, honey and olive oil, as well as delicious goat, rabbit and smoked-pork dishes. Time slows almost to a standstill in the mountain villages, where locals with formidable whiskers welcome you with shots of raki (Cretan grappa) for breakfast and celebrate saints' days with a volley of gunshots. Even the road signs are peppered with bullet holes.

Where to stay in Crete: Metohi Kindelis, an intimate guest house on an organic estate, mirrors the swirling historical currents that have shaped Crete – built by the Venetians, occupied by the Ottomans, and later purchased by a family of Greeks from Constantinople who still own it a century later. On a sandy bay near Chania, Ammos Hotel smartly combines Scandi chic with a child-friendly vibe. A 300-year-old hamlet surrounded by olive groves, Kapsaliana Village Hotel exudes peaceful authenticity. Blue Palace Resort & Spa beats the (stiff) competition in Elounda with its spiral stone Isola Beach Club and thalassotherapy spa. Cretan Malia Park isn't in the nicest part of Crete, but it's the island's best new resort – effortlessly cool without being contrived.

16. PATMOS

Best for: Stark mystique and show-stopping villas

Patmos has an indefinable je ne sais quoi – an otherworldly quality that radiates from its crowning glory, the medieval monastery of St John. This turreted fortress, bursting with Byzantine relics, is named after John the Divine, who conjured up his apocalyptic revelations in a cave nearby. Pure-white Hora, a World Heritage Site, is where A-listers and fashion editors stay. High walls and heavy doors conceal magnificent mansions dating back to the 16th century. The almighty church has kept nightlife in check. If you must see and be seen, head to quietly glamorous Astivi or Stoa bar, on miniature Agia Lesvias square, in Hora. Beach life is generally languid and low-key; Psili Ammos and Livadi Geranou are our favourite hideouts. Dinner reservations are essential at Benetos, for Med-Asian fusion on an organic farm, and Lambi for grilled fish on a purple pebble beach.

Joining the Patmos in-crowd requires commitment. There's no airport and it's a nine-hour ferry journey from Athens, which keeps the hoi polloi at bay. Seriously reclusive types hop on a fishing boat from Patmos to Marathi (population: 12) and play castaway at Pantelis, a divine taverna with modest rooms to let.

Where to stay in Patmos: Archontariki is a gorgeous, five-suite hideaway in Hora. Patmos 360 has four houses in Hora brimming with charm and historical detail, all superbly restored by local architect Katerina Tsigarida. Overlooking Petra beach, Onar Patmos has a handful of antique-filled houses clustered around a pool. If you're in the market for something more modern, with a pool, try White Key.

Read our full guide to Patmos, the spiritual Greek island

Patmos: the spiritual Greek island

BEACHES

Patmos: the spiritual Greek island

17. SYMI

Best for: Castaway coves and a picture-perfect port

Little Symi has the prettiest port in Greece. As you round the headland, neoclassical mansions in every shade of apricot and peach rise like a mirage from the sea. Built by 19th-century sponge and spice merchants, the whole town is now a national monument. You need strong legs to explore – it's about 500 steps up to the crumbling acropolis – but you won't need a car. The only proper road peters out at Panormitis monastery, a major pilgrimage site. Ravishing beaches such as Ayios Yorgos Disalonas (backed by monumental cliffs) and Marathounda (where goats will try to filch your picnic) are only accessible by boat or on foot. In the rugged hinterland, more than 100 monasteries are hidden among the pine and cypress forests.

With its laid-back glamour, luminous sea and almost tropical microclimate, Symi is a hit with French and Italian yachties. You'll find them eating flash-fried baby shrimp, a local specialty, at Tholos, a sensational taverna where the harbour views almost steal the show.

Where to stay in Symi: Hotel Aliki, right on the waterfront, is a throwback to the 19th century, right down to the creaky floorboards. The Old Markets is the only smart hotel, but there are just ten rooms so be quick and book one. Its simpler sister hotel, Emporio, also has just five rooms and a stand-alone cottage, dangling above the drowsy pebble bay of Nimborio, a one-taverna kind of town. Roll straight out of bed and into the sea at On The Rocks, an adorable cottage afloat on the Aegean.

18. NAXOS

Best for: Endless sandy beaches

Naxiots once made considerable fortunes exporting potatoes, cheese, marble and emery. Locals bequeathed undesirable seaside plots – useless for farming – to their laziest offspring. When tourists cottoned on to the island's scores of fabulous beaches, these wastrels found themselves sitting on gold mines. The west coast of Naxos is fringed with mile upon mile of powdery sands. Agios Prokopios and Agia Anna delight toddlers and teenagers alike with their shallow waters and beach bars. As you head south, the beaches get wilder: Plaka, where you can gallop across the dunes on horseback, Mikri Vigla for windsurfing and kitesurfing, and crystal-clear Kastraki.

Should you tire of frolicking on the shore, three supersized kouros statues are hidden in the hills and there are dozens of drowsy villages to explore. Try kitron, the local citron liqueur, at the Vallindras distillery in Halki or sample homemade wine and arseniko cheese under the plane trees in Ano Potamia village. No wonder Herodotus described Naxos as 'the happiest of islands'.

Where to stay in Naxos: Corona Borealis is a seven-suite retreat with a pool poised for sunset and a private cove where you can have supper under the stars. Kavos is a low-key complex of boxy white villas, set among bright bursts of bougainvillea, geraniums, and roses, above Agios Prokopios beach. Adults-only Naxian on the Beach is just a few sandy steps from the sea on Plaka beach. The 10 rooms are decked out in bamboo, wicker and weathered wood, and the restaurant, Tortuga, pulls in honey-toned locals for its contemporary comfort food and beach-shack vibes.

19. ASTYPALEA

Best for: Escaping the crowds

A throwback to a gentler, slower, more elemental way of life, Astypalea is surprisingly easy to get to (daily one-hour flights from Athens). Every gap in the burnished hills frames a different view of Hora, cascading from the Venetian castle to seaside Skala. The scent of saffron biscuits wafts through the whitewashed lanes. Tucked beneath the battlements, Castro bar has a magical terrace that seems to float above the archipelago.

The nearest beach is Livadi, a sort-of-resort surrounded by citrus orchards. The rest of the island is stark and wild. Treacherous tracks hurtle down to shingle bays such as Vatses, with a rocking beach bar, and Kaminakia, where Linda's farm-to-table taverna serves the best roast goat in the Dodecanese. If you really want to be alone, rent a motorboat from Maltezana, an old-time fishing village, and putter to Koutsomiti and Kounoupes, tiny islands connected by a double-sided beach. At Vathy, a lagoon where erotic graffiti was etched into the rocks 2,500 years ago, the only taverna is called Galini (Peace). Which sums up Astypalea perfectly.

Where to stay in Astypalea: Saluti da Stampalia, with seven subdued but very stylish sea-view rooms, has upped the ante on an island where most accommodation is uninspired. Otherwise, there's Melograno Villas or Oltre Mare, simple maisonettes with endless blue views.

20. ZAKYNTHOS / ZANTE

The best Greek Island for: seaside holidays with toddlers or teens

Zakynthos, or Zante, has shrugged off its reputation as a destination for lads on tour (as long as you avoid Lagana and the built-up south coast) by rebranding itself as Greece's greenest island. It's not just the emerald hills sliding into the electric blue Ionian: much of the south coast is a nature reserve where endangered loggerhead turtles hatch in the sand. The turtle beaches are off limits, but there are countless coves in every hue of green and blue. Favourites are tiny Xigia, with its bubbling underwater springs, and craggy Porto Limnionas, with sunbeds wedged between the rocks and palm-frond umbrellas positioned between the pine trees. Skinari is the starting point for boat trips to the most famous landmarks, the Blue Caves and Shipwreck Beach, where a rusting liner leans into the chalky cliffs. From Keri, you can cast away for Marathonisi island, another turtle sanctuary.

The mountainous interior, all sleepy stone villages poking out of pine forests, is great for hikes and bikes. (Eco Zante can arrange outdoor activities guided by insiders.) Askos Stone Park is a wildlife sanctuary inhabited by deer, chinchilla, and dozens of other species. After exploring the Venetian castle high above the harbour, treat the kids to thin-crust pizzas (with grown-up toppings like bresaola, aubergine, and gorgonzola) at Alesta on cute St Mark's Square.

Where to stay in Zante: Porto Zante, eight villas with five-star facilities, set above a pristine bay of finely raked sand, is kitted out for kids of all ages: there's a playground, mini-golf, and every water-sport under the sun. The sociable Peligoni Club is especially good for toddlers and teens: the crèche is run by qualified nannies and over-13s have their own bar, serving milkshakes and mocktails. Zante Maris Suites, as well as the new Olea All Suite Hotel just next door, are both squarely aimed at adults, with a haute hippie vibe. Kids over 12 are welcome.

21. RHODES

Best for: Travelling back in time

When the writer Lawrence Durrell arrived in Rhodes after World War II, he found an island devastated by centuries of crusaders and invaders. Like the fallen Colossus, it was 'a Rhodes dispersed into a million fragments, waiting to be built up again.' Since then, Rhodes has reinvented itself as one of Greece's top travel destinations. The big draw is the medieval citadel in Rhodes Town: : stroll along the battlements and you'll spy Byzantine churches, Roman ruins, synagogues and minarets. In the maze of alleys, seek out Marco Polo, a 15th-century guest-house decorated like a pasha's harem, with an enchanting restaurant in the garden.

Upmarket hotels are clustered around Lindos, its magnificent acropolis surrounded by slate cliffs and emerald coves. Go for the views – and the sublime octopus ragout at Mavrikos restaurant.
As you head south, high-rise resorts give way to stretches of golden sand, such as Glystra, Tsambika, and Fourni. Inland, you'll find alpine forests (Mount Attavyros), hilltop castles (Monolithos), faded frescoes (Agios Nikolaos Foundoukli) and ancient ruins (Kamiros). Marooned on the southern tip, Prasonisi is a powdery peninsula where the Aegean meets the Mediterranean. One side is calm, the other choppy – a metaphor for this island of two halves.

Where to stay in Rhodes: Adults-only Casa Cook is a chic little number that breaks all the rules about package holidays (you'd never know it was created by Thomas Cook). The Marco Polo is a 15th-century mansion decorated like a pasha's harem, with an enchanting garden restaurant. Also in Rhodes Old Town, Kokkini Porta Rossa is an intimate guesthouse in a 14th-century building stuffed with museum-grade antiques. Ottoman-style suites at Melenos Lindos have hand-painted ceilings and carved platform beds.

22. SKIATHOS

Best Greek island for: Flopping onto a sandy beach with a good book

Skiathos may be the smallest of the Sporades islands, which counts among its number sleepy Alonnisos and the pretty Mamma Mia! location of Skopelos, but it's by far the most popular, especially with families, who come for the baby powder-soft sandy beaches and laid-back vibe. The island has some of the finest beaches in Greece, with the tree-lined, turquoise-watered Koukounaries in the south the most celebrated and the busiest (forget about getting a sun lounger here in peak season). Those in the north of the island, which can only be accessed by a steep, winding drive through pine groves, are more rugged and windswept but no less idyllic – emerging onto Elia beach, with its crystal-clear sea and rickety wooden taverna, is like stepping into a little slice of paradise.

As dusk falls the town starts to liven up, with most of the action centred around Papadiamantis Street, the main shopping drag. Stroll down it on the way to dinner and browse smart boutiques selling handcrafted jewellery and knick-knacks, or pick up local delicacies from the upmarket Ergon deli, which also has outposts in Athens, Thessaloniki and Mayfair. The buzziest restaurants are clustered around the harbour, with Bourtzi, perched atop a tiny rocky island, the best spot for sundowner cocktails and The Windmill a favourite for elegant suppers. For the most charming setting, head to Sklithri and book one of the taverna's tables right on the beach. Order an ice-cold Mythos beer, baked feta and a platter of perfectly-chargrilled and out-of-this-world delicious vegetables then watch the sun set over the Aegean, with your toes in the sand.

Where to stay in Skiathos: The island wasn't known for its smart hotels until the Elivi opened in 2018. Sitting on a hilltop on the Punta peninsula, the hotel has tastefully decorated rooms and four of the island's most beautiful beaches within walking distance. White Key handles some beautiful rental properties, such as Villa Orelia, which comes with its own private open-air cinema.

23. LEFKADA

Best for: Sailors, surfers, and superstar beaches

Lefkada is something of an anomaly. Unlike the other Ionian islands, it's accessible from the mainland via a causeway on the northern tip. It's also easily reached from the UK, with direct flights to Preveza, a 40-minute drive. Lefkada's main town, flattened by an earthquake in the 1950s, certainly won't take your breath away, but those famous cliff-backed beaches, Egremni and Porto Katsiki, sure will. You'll find sheltered beaches no matter which way the wind is blowing; but if you're here for the swell, the south coast is fantastic for windsurfing (head to Vassiliki or Sivota, home to the world windsurfing championships) and Agios Ioannis bay billows with kite-surfers. At Nidri, ignore the unlovely bars and watersports centres, and hop on a boat to explore the little isles nearby. You can swim through sea caves on Kalamos; eat seared tuna with tarama at Errikos taverna on Meganisi, a favourite of reclusive billionaires; and watch the sunset with a basil-infused Mastiha and tonic at Mylos bar, a converted windmill on Kastos.

Want to cool down or escape the summer crowds? Drive through forests of chestnut and pine into Lefkada's mountainous interior to the somnolent villages of Karya (home to an enchanting textile museum), Eglouvi (to play backgammon under plane trees) and Exanthia (to watch the setting sun from up in the clouds at Rachi restaurant). You might even see paragliders leaping off the mountain.

Where to Stay in Lefkada: Good value and family-friendly, Idilli Villas is a secluded collection of stone houses, most with private pools. It's a 10-minute stroll to the cute seaside town (and excellent fish tavernas – try Sappho) of Agios Nikitas. Lefkada Infinity Villa has a more bohemian, lived-in feel than most of the soulless rental properties on the island, plus an incredible pool. Five Star Greece specialises in ultra-luxe properties, such as Lefkada JD, which comes with a gym, chef, housekeeper and a skippered RIB boat.
source: https://www.cntraveller.com/gallery/best-greek-islands-beaches